Discover more from Tiblio
Tiblio gives you the highest credit spreads with the lowest risk.
Tiblio trade board update!
Trade better with Tiblio.
Dear Tiblio Community,
As we seek to add value to Tiblio, we made feature updates we would like to share with you.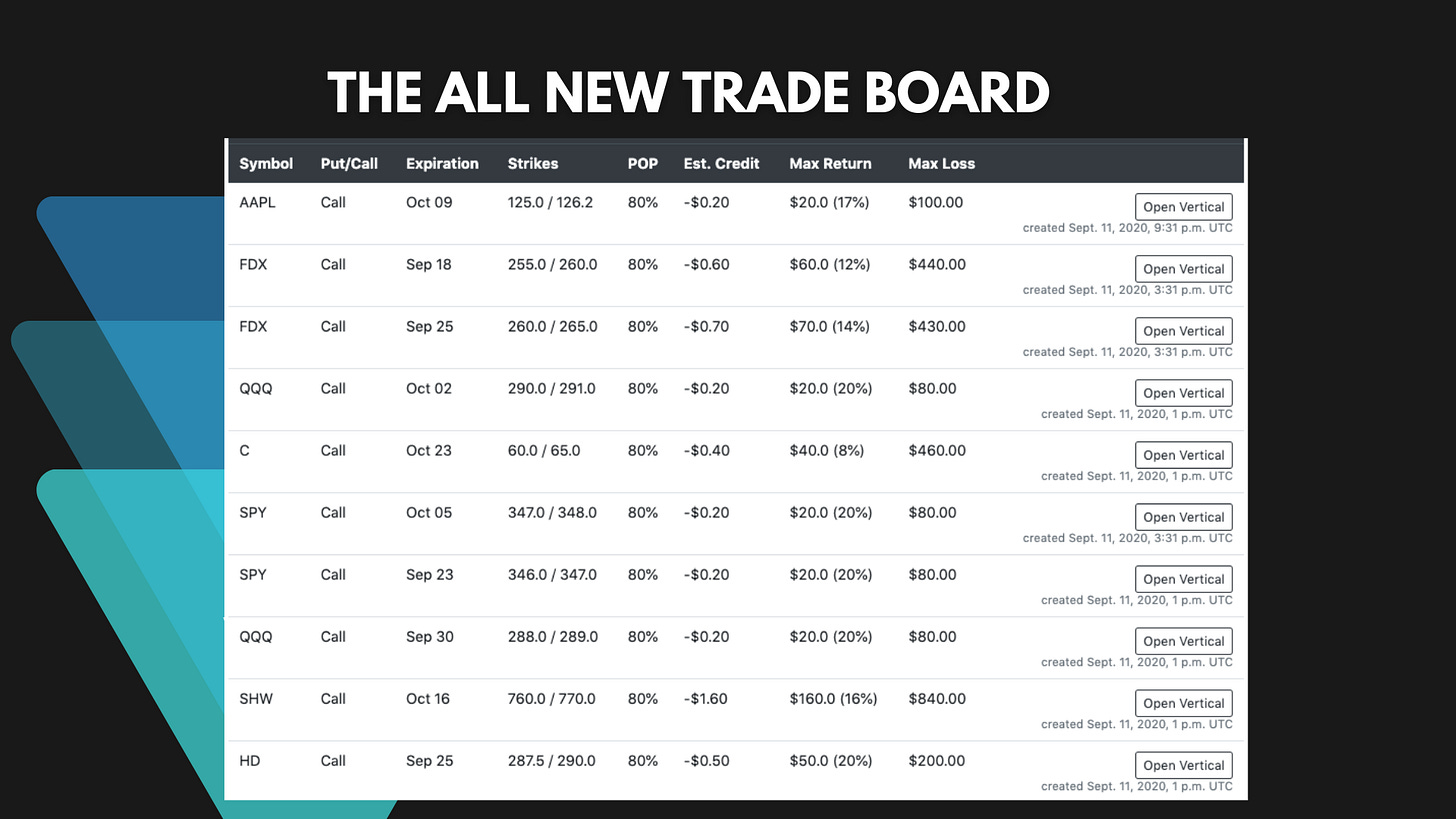 1. The Trade board now shows a max loss calculation that takes into account the credit paid to you for the spread. You can use this to quickly eyeball the weight of the trade in your portfolio. Take many trades risking $100 vs one trade risking $900 for example. Your Tiblio trade board log keeps you on track to meet your investment goals by allowing you to analyze your trading patterns and make adjustments when needed for your trading edge.

2. We increased the number of recommendations shown at one time on the trade board from 10 to 20. Giving you more spreads with the highest credits and highest probability of success.

3. Both the trade board and the recommendation email will now show an even number of Call and Put trade recommendations. Create market neutral plays by picking great spreads on the Call and Put side.

Now is a good time to visit your trade board and if you haven't already done so, enter the spreads that you opened and close the spreads that you closed last week.


Did you know? Our Facebook group opened today! Come and join the community of other Tiblio Traders to share success stories and other trading insights. Join our Facebook group, Tiblio Traders
Trade better,
Team Tiblio
support@tiblio.com

DISCLAIMER: There is a very high degree of risk involved in trading. Past results are not indicative of future returns. TIBLIO, INC and all individuals affiliated with this site assume no responsibilities for your trading and investment results. The list of cheap stocks with high premiums, strategies, columns, articles and all other features are for educational purposes only and should not be construed as investment advice. Information for stock observations are obtained from sources believed to be reliable, but we do not warrant its completeness or accuracy, or warrant any results from the use of the information. Your use of the stock observations is entirely at your own risk and it is your sole responsibility to evaluate the accuracy, completeness and usefulness of the information. You must assess the risk of any trade with your broker and make your own independent decisions regarding any securities or strategy mentioned herein.